inFlux News
Cooking Class "Corn Dog" na inFlux Natal
sexta-feira, 29 de junho de 2012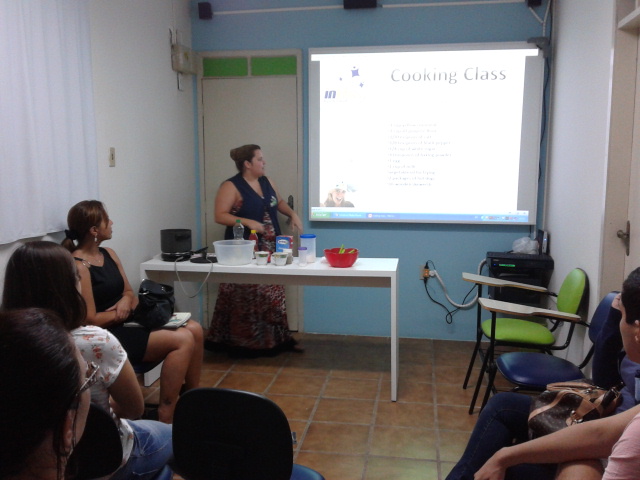 No dia 15 de junho a inFlux Natal realizou mais um Cooking Class. A professora Priscilla satisfez a todos com uma receita bem típica que é o Corn Dog.
Alguns dizem que o Corn Dog surgiu na década de 20, mas uma coisa é certa, ele só se popularizou na década de 40 nos Estados Unidos. É uma comida de rua, porém pode ser encontrada, inclusive, congelada, pronto para fritar.
Para quem ficou com água na boca e quiser se deliciar com esta ótima receita que é bem simples de preparar, segue abaixo a receita:
1 cup of yellow cornmeal
1 cup of all-purpose flour
1/4 teaspoon of salt
1/8 teaspoon of black pepper
1/4 cup of white sugar
4 teaspoons of baking powder
1 egg
1 cup of milk
vegetable oil for frying
2  packages of beef frankfurters
16 wooden skewers
Directions:
In a medium bowl, combine cornmeal, flour, salt, pepper, sugar and baking powder. Stir in eggs and milk.
Preheat oil in a deep saucepan over medium heat. Insert wooden skewers into hot dogs. Roll hot dogs in batter until well coated.
Fry 2 or 3 corn dogs at a time until lightly browned, about 3 minutes. Drain on paper towels.
Enjoy it.

Notícias Relacionadas
veja mais