inFlux News
Resultado da Promoção do Dia dos Namorados – inFlux Campinas
quarta-feira, 11 de julho de 2012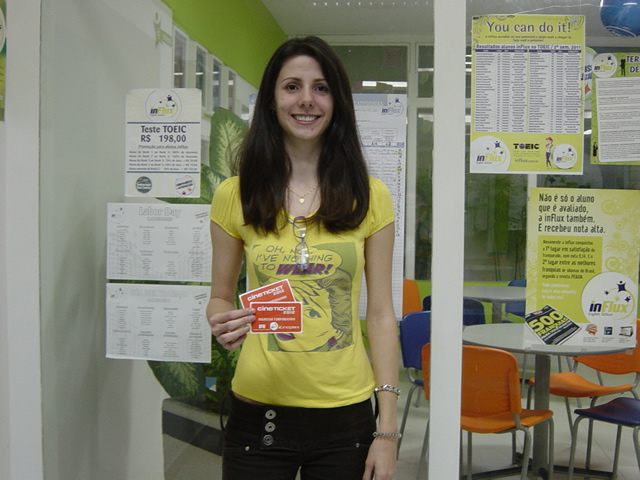 Muito obrigado a todos os alunos e professores que participaram da Promoção do Dias dos Namorados na inFlux Campinas.
Como tivemos uma enorme participação dos alunos e professores resolvemos ampliar a premiação para as 4 melhores frases de alunos e 2 de professores. Todos receberão um par de ingressos para ser utilizado em qualquer uma das 170 salas do Grupo Severiano Ribeiro – Kinoplex.
Vejam abaixo as frases ganhadoras:
" I would go to the football stadium "La Bombonera", in the middle of Boca Juniors supporters wearing Corinthians' shirt, with a handwritten sign: Rodrigo… Ilove you!"  Sheila B. Messias Uchoa – Student Book 3
"I would go to Libertadores Football Championship final and would root for Corinthians team with him, which is a very difficult thing to do for a Palmeira's fan girl!" Michelle Lelis Gardini – Student Book 2
" I would give her flowers everyday" Paulo Candido Nascimento – Student Book 2
" I'll try to show as best as I can, because just inFlux knows how to show serious commitment." Thamires Amarante – Student Book 1
" I would shout to the whole world, my enemies, my ex-girlfriend and even to my recent ex-wife that  I'm happy, complete and well committed again, once for all and forever." Bruno A. Bergamaschi – Teacher
" I would put my hands up in a roller coaster ride. I would climb a mountain and risk my life. This is all for you. I would do…anything you let me do!" Juliana S. Camargo – Teacher
Parabéns aos ganhadores!
Notícias Relacionadas
veja mais