inFlux News
inFlux Experience "Conversation Day" Rock Concerts na inFlux Sinop
quarta-feira, 1 de novembro de 2017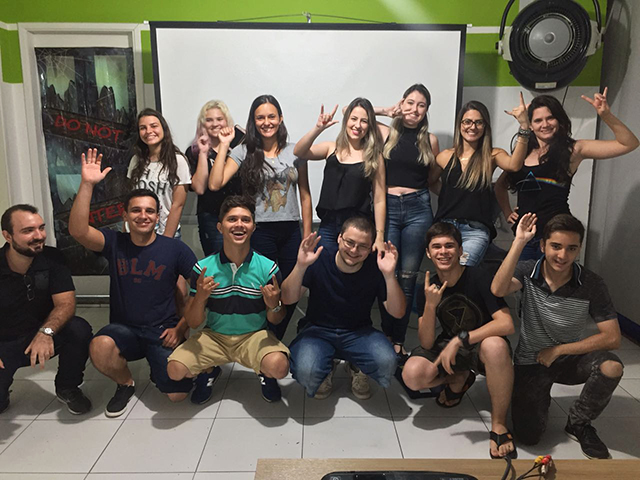 eNa última sexta-feira, dia 27 de outubro, tivemos mais um inFlux Experience em que os alunos tiveram a oportunidade de praticar o inglês fora de sala de forma divertida.
No Conversation Day, os alunos entraram no ritmo do Rock e, em grupos, competiram pra descobrir quem sabe mais sobre Bandas, Músicas e Festivais de Rock n' Roll.
Com atividades como "Continue the Song", "What's gonna happen next", "Rock Concert Quiz" e "Getting Ready for a Rock Festival" os grupos U4, Paramore, Fantastic 3 e The Peppers mostraram que sabem de tudo sobre Rock e estão com os chunks na ponta da língua!
A disputa foi acirradíssima e os alunos arrasaram na participação cantando e se comunicando em inglês e, após muitos hits clássicos de Elvis, The Beatles, Pearl Jam e outras lendas do Rock, as campeõs foram as alunas do grupo The Peppers!
A aluna Soraia Streg, do Book 4, que foi uma das campeões, disse "Tonight was really fun. We played and competed, but our main goal was to have a good time and we did. We laughed, sang and spoke in English even without noticing. It was awesome! (Esta noite foi muito legal. Nós jogamos e competimos, mas nosso objetivo principal era diversão e  nos divertimos muito. Nós rimos, cantamos e falamos inglês sem nem perceber. Foi demais!)"
You rock, guys!
Notícias Relacionadas
veja mais