inFlux News
Children's day inFlux Brasília Sudoeste
quarta-feira, 27 de outubro de 2010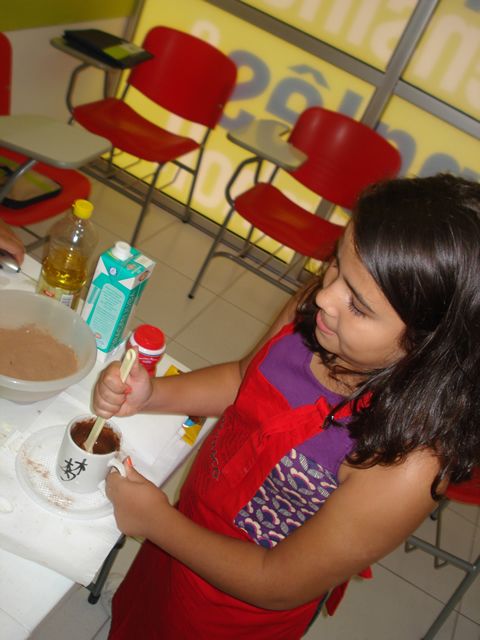 MUG CAKE WEEK
Os alunos de Let's go e teens da inFlux Brasília Sudoeste tiveram uma atividade especial na semana do dia 16 à 23 de outubro em decorrência do Children's Day. Eles prepararam um MUG CAKE (bolo de caneca)feito no microondas em apenas 3 minutos. Os professores ajudaram os alunos mostrando a receita toda em inglês. Assim, eles aprenderam e decoraram canecas lindas com um delicioso e recheado bolo de chocolate. Segue a receita para que todos possam conhecer e saborear essa prática e deliciosa sobremesa.
How to Make 3 Minute Chocolate Mug Cake
1 coffee mug
4 tablespoons flour
4 tablespoons sugar
4 tablespoons baking cocoa
1 egg
3-4 tablespoons Milk
3 tablespoons oil
3 tablespoons Chocolate chips (optional)
Small splash of vanilla
Instructions
1. Get a coffee mug of choice. If you are making this as a gift choose a coffee mug especially for that person. If you are making it simply to eat just grab your favorite coffee mug.
2. Add dry ingredients to coffee mug and mix well.
3. Add the egg and mix thoroughly.
4. Pour in the milk and oil and mix well.
5. Add chocolate chips (I used white chocolate as that is what I had) and vanilla and mix again
6. Put your coffee mug in the microwave and cook for 3 minutes at 1000 watts. The cake will rise over the top of the mug, don't be alarmed.
7. Allow to cool a little, tip out onto plate if desired and eat.
Share this recipe with everyone and use this as a "friendly" treat for friends! Try one yourself!

Notícias Relacionadas
veja mais