inFlux News
Pizza Night para os formandos da inFlux Pinhais
quinta-feira, 20 de dezembro de 2018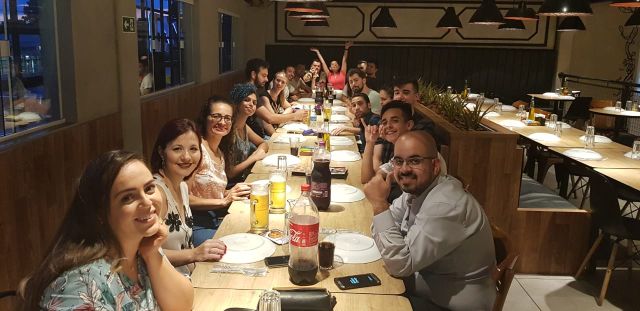 O fim de ano tem sido muito marcante para os alunos da inFlux Pinhais que estão concluindo o Book 5 e chegando ao final do curso. Tivemos a Cerimônia de Formatura, onde todos puderam finalmente pegar o seu diploma final, além de agradecer a todos aqueles que, de alguma maneira, contribuíram para o seu sucesso.
Na noite seguinte, tivemos uma Pizza Night no Jack Pizza!
Os alunos formandos puderam relembrar de todos os momentos que eles compartilharam nesses dois anos e meio de curso. Com a presença dos teachers paraninfos, Cris e Chell, os alunos praticaram o seu inglês em alto nível, além de dar boas risadas!
Com certeza, todos fecharam o curso com chave de ouro, e para aqueles que continuarão a desenvolver o seu inglês em alto nível no Summit, até logo!
Thanks for everything guys! You guys deserve it all! Go out there and conquer the world!
Notícias Relacionadas
veja mais